—The Theatre Works of Mechanical Reproduction— PASSAGE Ⅱ
Playwright ,Director and Performer
15th-16th,December,2012
Venue :Art Area B1 [Osaka,Japan]
organized by: Artarea-b1,Naniwabashi Station [OSAKA UNIVERSITY+NPO DANCE BOX+ Keihan Electric Railway Co.,Ltd.]
length:30min
---
This work is an attempt to know whether the bodies of live audience could function in the theatre space. Staying in a life sized model of platform, the audiences can see the performance wherever they like. The presences of them, the physical signs of them and their reflections on the wall, which are made by the stage lighting or the dim light from the screen, could turn out to be the crowd waiting for the train, and also the crowd hearing Hitler's speech, and even 'the little hunchback' possessing Walter Benjamin.
---
Photo:Inoue Yoshikazu
---
■THE PASSAGE SERIES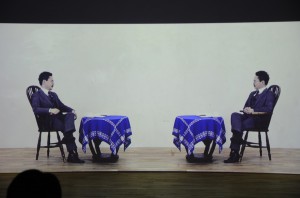 about ─The Theatre Works of Mechanical Reproduction─ PASSAGE Ⅰ (2012)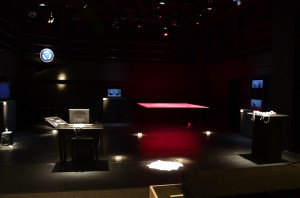 about—The Theatre Works of Mechanical Reproduction—PASSAGE Ⅲ (2013)

About Series "Passage"
The series are predicated on the theories of Walter Benjamin, who was a German literary critic and philosopher. He wrote "The Work of Art in the Age of Mechanical Reproduction" in 1935. The "Passage" series intend to study the possibility of mechanical reproduction drama.
---